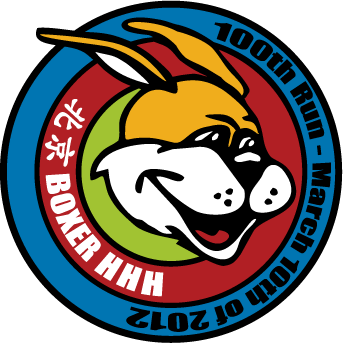 Dear Boxer Hashers,
Yes, our 100th run has finally come! During the previous 99 months, you, intrepid Boxer Hashers have defied steep hills, weather conditions and all sorts of adversities in search for the perfect hash on beautiful Beijing hills.
Well, reward comes to those with patience. According to the hares, wait is over. After years of research, tons of beer and uncountable hazards and difficulties they are ready to set up the BEST TRAIL for the BEST BOXER HASH EVER. Check out the picture on this eventbrite invitation as one local papparazzi caught the hares recce'ing.
In line with the above, some of our old time Boxer Hashers will come back to Beijing for this year's event. Looks like this notice uses too many superlatives? Sign up and cum to check it by yourself!
Afraid of running too fast on the hills? Never mind. There will be a wanker's trail for those of you who would rather not stretch themselves as far as a usual Boxer Hash run.
Date:
Saturday, March 10th

Meet:
Tim's Texas BBQ (on Dongdaqiao Lu near the Silk Market) at 10AM for a 10:30AM departure! Arrive early and support your hash bar :)

Runsite:
GuBeiKou Great Wall

Hares:
Kiss My Maple Leaf and TapAss

Cost:
150RMB

Registration (A FEW PLACES LEFT):
Do not waist time an register now at boxer100.eventbrite.com
A very special patch has been design for this special event, exclusive only for attendees!!